RSS and feed have been the easiest way to get the current update of any website or blog for a long time. These updates include full or summarized text like blog entries, news headlines, audio, and video in a standardized format. For this article we have created a list of Best jQuery RSS Feed Plugins that can help you display your blog current activities of other blog and sites on your own website.
1. FeedEK

FeedEk is a jQuery plugin for parsing and displaying RSS and Atom feeds. FeedEk usesGoogle Feed API to retrieve feeds. You can obtain feeds easily from any domain. No need for server-side scripts.
2. Dynamic News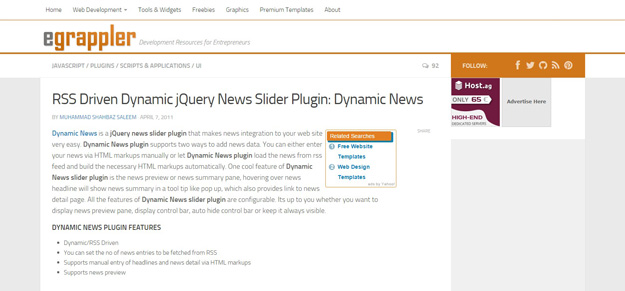 Dynamic News is a jQuery news slider plugin that makes news integration to your web site very easy. You can either enter your news via HTML markups manually or let Dynamic News plugin load the news from rss feed and build the necessary HTML markups automatically. News preview or news summary pane, hovering over news headline will show news summary in a tool tip like pop up, which also provides link to news detail page.
3. Feedback Me

Feedback Me is a jQuery plugin allows user to easily add an animatable UI widget with a feedback form which slides from the side of the screen.
4. Socialist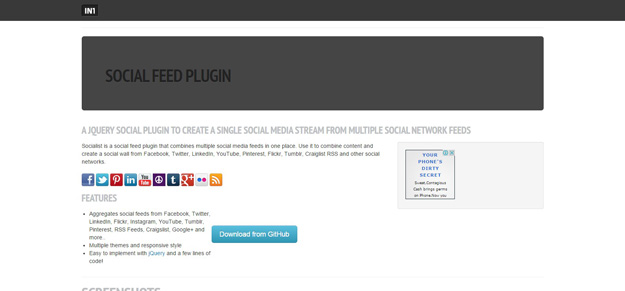 Socialist is a social feed plugin that combines multiple social media feeds in one place. Use it to combine content and create a social wall from Facebook, Twitter, LinkedIn, YouTube, Pinterest, Flickr, Tumblr, Craiglist RSS and other social networks.
5. jQuery Tweet Feed Plugin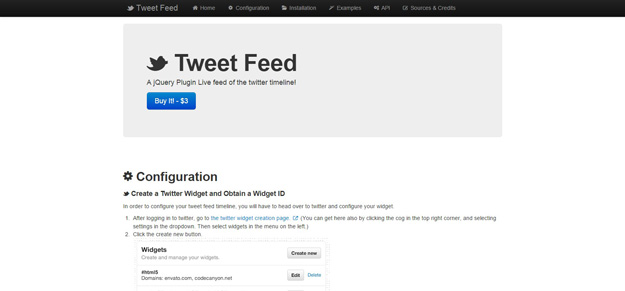 This minimal plugin allows you to easily display a live twitter timeline on your website! You can easily just copy and paste the one liner code, or get into some more of the detailed configuration.
6. Yunero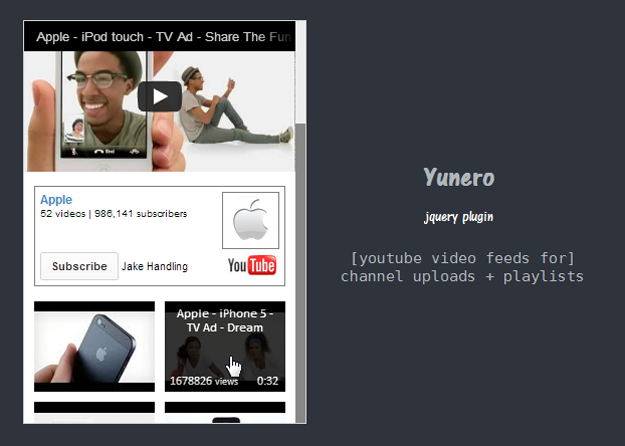 Yunero is a new jQuery plugin that creates a widget on your website to display video feed for YouTube channel uploads or custom playlist. Just specify your youtube channel URL and this widget will display the recent uploads from your channel. You may also specify your youtube playlist URL and video feeds from your playlist will be displayed. A subscription box for you is also shown to attract social people.
7. Social Feed

Social Feed is a jQuery plugin which shows a user feed from the most popular social networks.
8. isLoading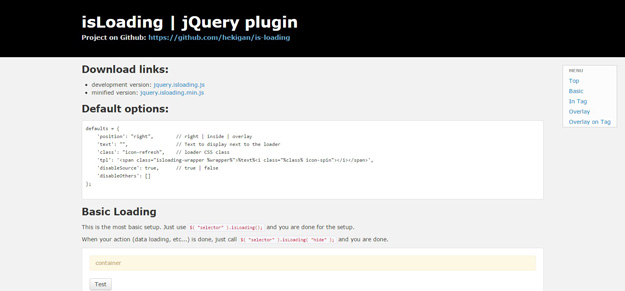 isLoading is a simple jQuery plugin to show visual feedback when loading data or any action that would take time. You can use isLoading as; basic loading, load in Tag, overlay, and overlay on tag.
9. SmarTicker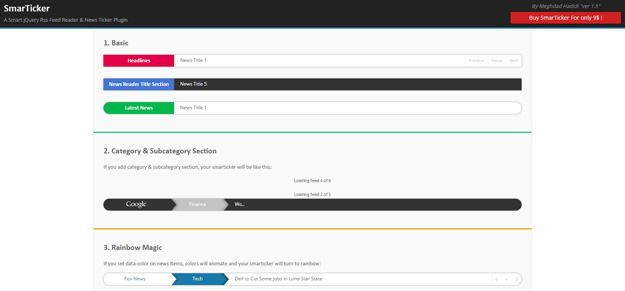 SmarTicker is a jQuery smart Rss feed & news ticker plugin, it comes with number of features such as RTL languages support, next, previous, pause and play navigation, 3 layouts, 6+skins, highl customizable and different animation effects.
10. jQuery Social Stream

jQuery Social Stream will combine all of your social network feeds into a single network stream or create a single feed for multiple social network profiles. Includes Facebook, Twitter, Google + & LinkedIn share links to make you social network streams more interactive, help promote your social network posts and boost your traffic!
11. jFlickrFeed Plugin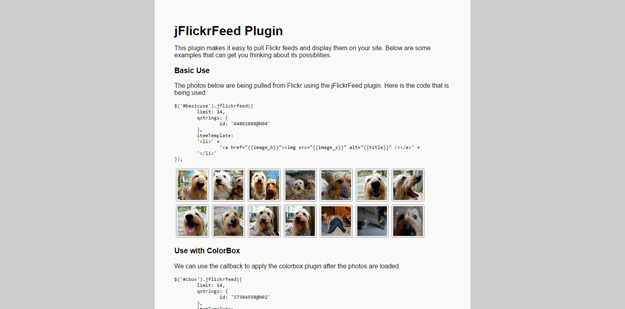 jFlickrFeed Plugin makes it easy to pull Flickr feeds and display them on your site.
12. Feedify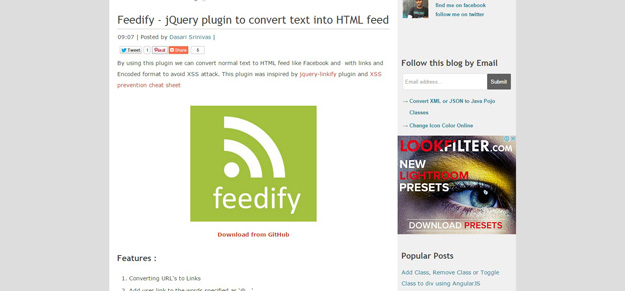 Feedify is a jQuery plugin to convert text into HTML feed likeTwitter and Facebook. It converts URL to links and Adds User links and Hash search links.
13. jQuery Google Feed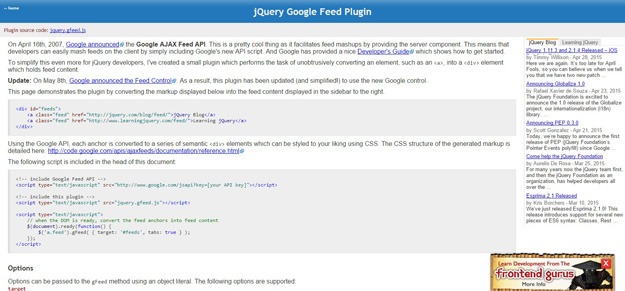 Google Feed Plugin is a pretty cool thing as it facilitates feed mashups by providing the server component. This means that developers can easily mash feeds on the client by simply including Google's new API script.
14. zLastFM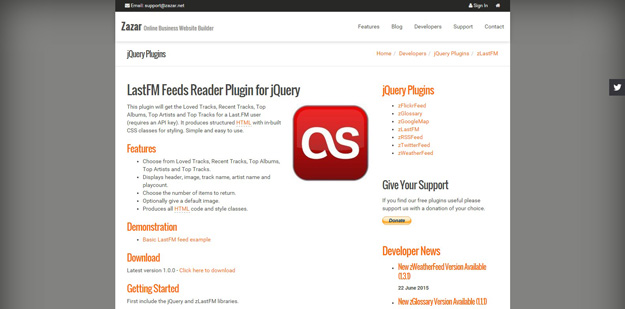 zLastFM plugin will get the Loved Tracks, Recent Tracks, Top Albums, Top Artists and Top Tracks for a Last.FM user (requires an API key). It produces structured HTML with in-built CSS classes for styling.
15. Fancy News

Fancy News is a jQuery plugin that lets you create an outstanding news slider. It´s highly customizable and very easy to use. You can add umlimited of news with thumbnails. If the post is longer than the height of the main area, a cool scrollbar will be added automatically.