Slide panel allow you to create various menus, collapsible columns, drawers, inspectors' panes, sliders, sliding menus and many more. These slide panels make your websites flexible, eye-catching and visually stunning. Slide panel firstly used for mobile software and now many people are using it for their websites to display their website content dynamically.
For this roundup we have compiled a list of 15 jQuery Slide Panel Plugins that will help you to create beautiful sliding sidebar panels for your websites to make them look attractive and beautiful, following plugins are lightweight and you can easily use them by writing a few lines of code.
1. Sliiide

Sliiide is a jQuery plugin to create a sliding menu easily. Sliiide will help you out to create an App-style navigation menu that will slide when a hamburger icon is clicked.
2. SlidePanel

Slide Panel is a jQuery plugin that allows elements to expand and collapse creating a sliding panel effect.
3. bigSlide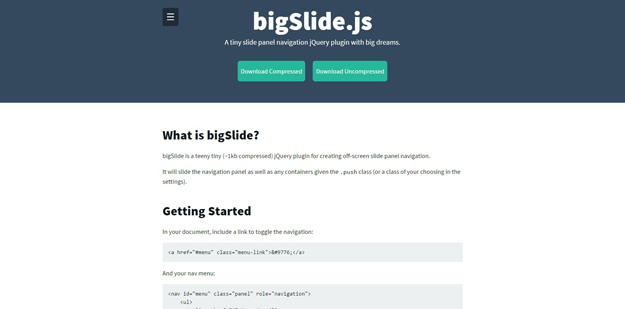 bigSlide is a tiny jQuery plugin for creating off-screen slide panel navigation. It will slide the navigation panel as well as any containers given the .push class (or a class of your choosing in the settings).
4. Slidebars

Slidebars is a jQuery plugin for quickly and easily implementing app-style revealing menus and sidebars into your website.
5. Sticklr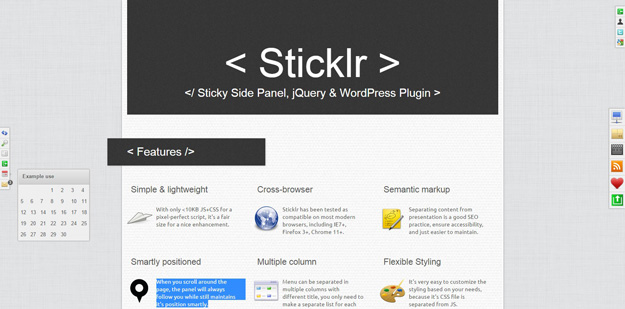 Sticklr- is designed specifically to be running on top of jquery and css3 platform as an installable plugin. Includes an intuitively easy administrative page, thus you don't need to deal with the code. Sticklr has been tested as compatible on most modern browsers, including IE7+, Firefox 3+, Chrome 11+. When you scroll around the page, the panel will always follow you while still maintains its position smartly.
6. Sticky

Sticky Sidebar is a jQuery plugin for sticky/fixed contents (headers, sidebars, footer, etc...)
7. jQuery Slideout Menu

Slideout Menu is an elegant jQuery-powered animated slideout menu. You can use it as a top menu, as well as a right-side menu.
8. jQuery Panel Slider

Side panel slider plugin (jQuery) that also slides page. It comes with number of features such as support multiple panels on same page, support closing when clicking outside panel or pressing ESC and play well with angular JS directives and many more.
9. Mb jQuery

It lets you easily build a sliding panel for any kind of content, it has all the functions built in for menu and sub menu panels with an accordion effect, and you can get the content via ajax.
10. Open Panel

OpenPanel is a jQuery plugin that allows you to open panel at any where in your page, unlimited panels as you want and support for responsive design. With this small plugin you can open more space for your site to add anything you want.
11. jQuery Slide Drawer Panel

Slide Drawer is a jQuery plugin that allows you to create a sliding drawer with slide out/down/up effects on the anywhere of your page. The plugin has several settings that allow for the drawer to remain static and just toggle, to go away after a set amount of seconds and the speed at which is moves.
12. Simple Sidebar

Simpler Sidebar is a jQuery plugin to create simple sidebar menu/navigation. It can be use both for left and right side.
13. Uber Panel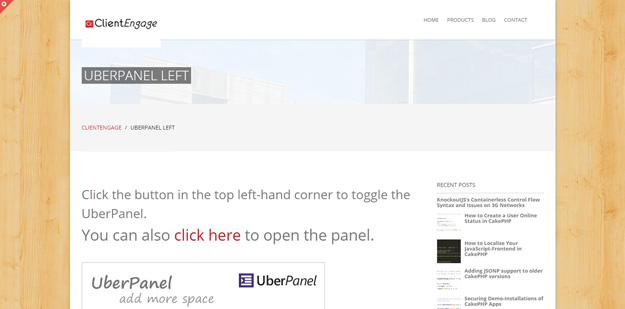 UberPanel is a plugin which adds a widgetised sliding panel to any WordPress theme. It provides you with an unobtrusive way to add additional space to your theme.
14. SlideReveal

Show side panel by sliding from the left or right of the page.
15. Metrotabs

Metrotabs is a light jQuery plugin to create tabs with metro style. You can align tabs positions at anywhere you like. The content can be anything ( paragraphs, images, video, iframe, ... ). MetroTab supports both inline content and AJAX content to you can combine two methods for best performance and SEO. You can customize the style of tabs and content by choose from many styles, many colors/images have already created in CSS file or make new ones on your own.