One surefire way to increase conversion rates on your landing pages is to include some sort of pop-up, be it one that appears as soon as your user visits the page, or an exit pop-up that appears when the user is going to leave the page (usually this type of pop-up is activated when the cursor hits a certain point of the viewport). While no user will tell you that they love pop-ups, there's no denying that they work to get more people to engage with your site and your content.
An easy way to add pop-ups to your sites is by using the open source, lightweight, and totally free Ouibounce plugin. The plugin gives you total control over your modals, and lets you customize things like a timers, cookie names, cookie expiration time (so how long you want a cookie to last before it expires and a user is exposed to the pop-up again), and more. You can define sensitively, which applies to the exit pop-up option, because sensitivity allows you to choose how far the cursor can move up the the viewport before it triggers the modal to appear. If you don't want to go the exit pop-up route, but you always don't want your modal to appear immediately upon page load, there's also a delay option that allows you to define how much time you would like to pass in between page load and the pop-up appearing.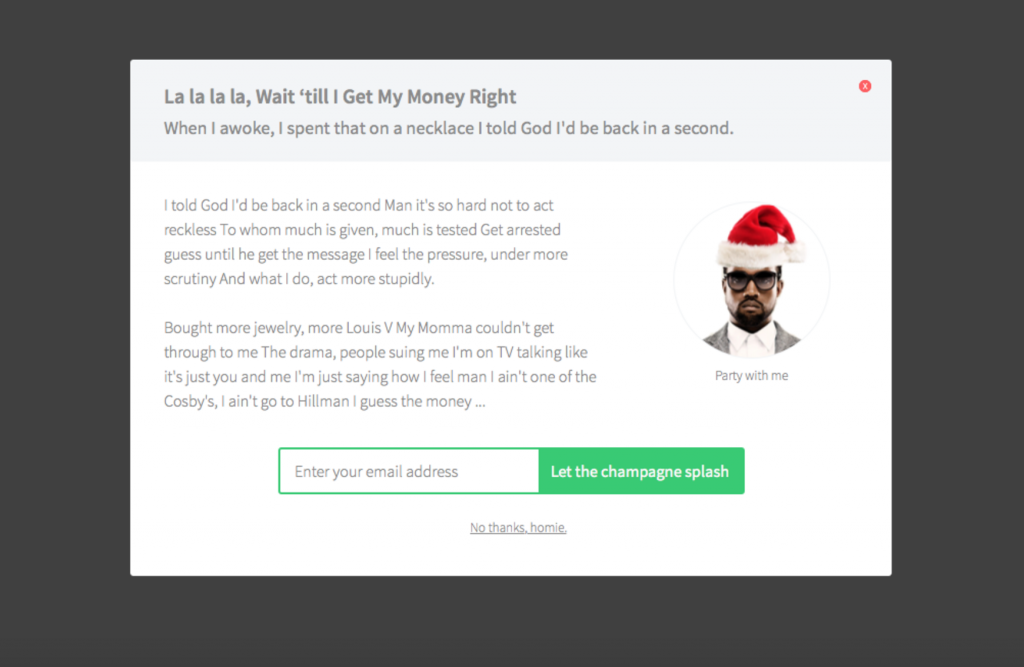 In terms of design, there are templates and suggestions provided by the plugin's developer, but the style and content are totally customizable and up to you. Ouibounce gives you complete control of how you want your pop up to look and function within your project. The plugin is easy to install and almost even easier to use, and it will definitely give you great results if you're looking for a lightweight, simple, and customizable pop-up plugin for any of your sites or pages.